Services
Services:
All Inclusive Groom Package: $100 – $300 and up. All services included in package price and provided as needed. Specific rate factors include dog size, breed, coat condition, disposition, groom requested, area of service, whether the dog has special needs. Convenience fee for mobile service included, and is assessed per trip, not per dog.
Consultation: You and your pet will meet with your groomer to get to know each other before the styling begins. We will discuss all aspects of grooming, from coat and skin, to personality, to diet, to style! Your groomer will work with you to select a look that works for both you and your dog. We are professionally trained to groom to the breed standard as well as custom cuts.
Deep cleansing hydro massage bath: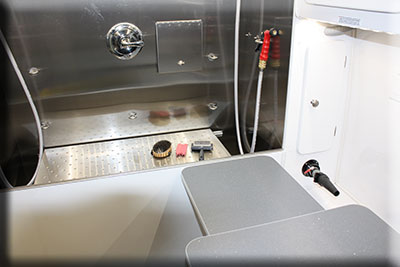 Our mobile spa features a full sized stainless steel tub that will hold even the largest breeds. The warm massage bath features a selection of premium and natural shampoos and conditioners (as needed) for all dogs, including those with sensitive skin. Facials and massage treatments available upon request.
Clipping and hand scissoring the coat to specifications
Calming and relaxing massage for Special Needs dogs
Fluff Dry by either hand drying, two-speed high velocity dryer, or a cool dry system
Full coat brush out
Nail clipping and filing
Ear cleaning
Expressing anal glands
Trimming hair between paws/paw pads
Trimming sanitary area
De-shedding & Furminating
De-matting (a surcharge will be added for extremely matted dogs)
Flea Bath
Special Needs Groom, including relaxation groom and groom for geriatric dogs
We do not brush teeth, since it must be a routine part of your dog's dental care. Please see your veterinarian for all dental health questions.